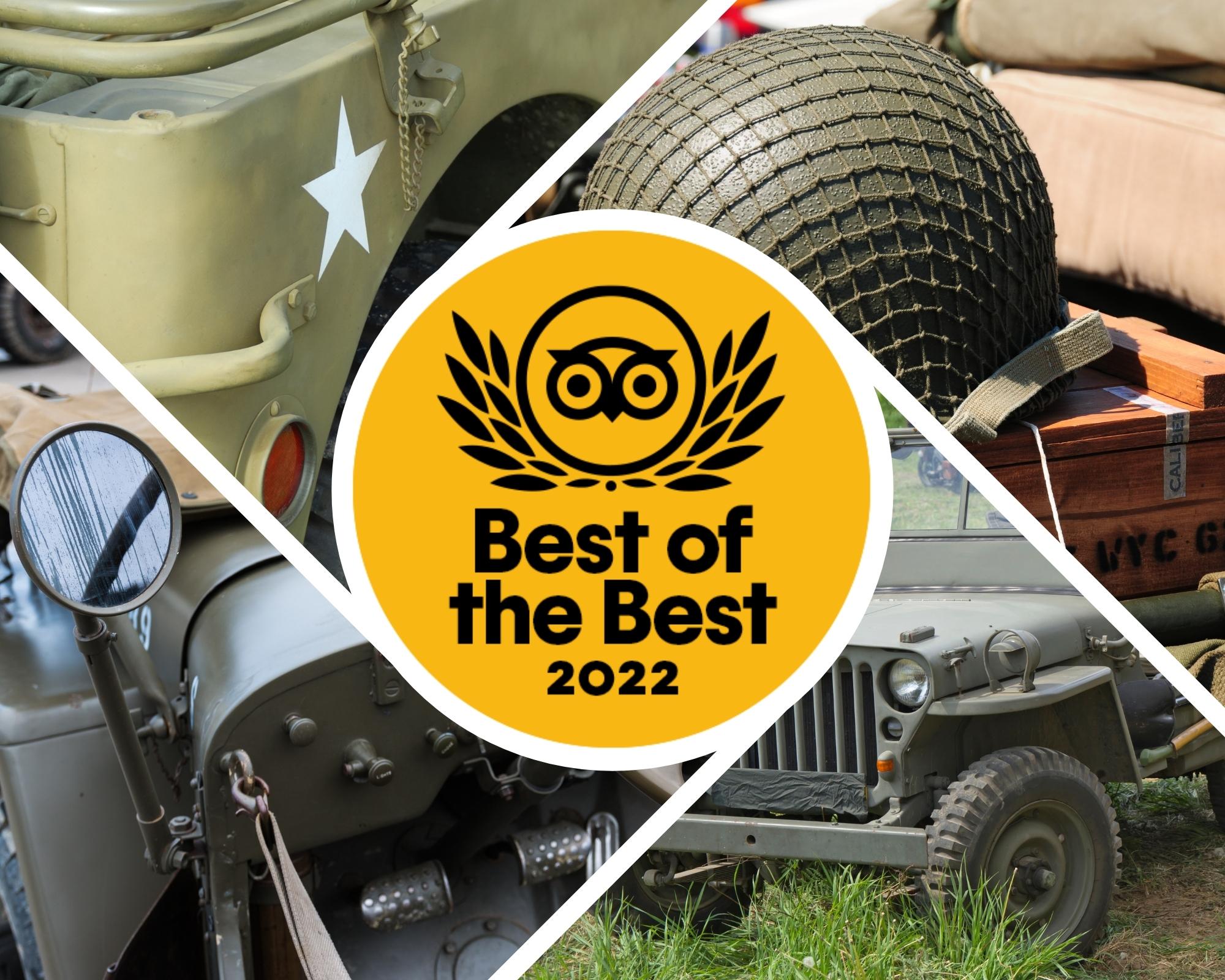 Enjoy our must-see activities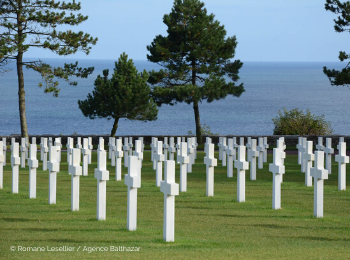 American Cemetery
 Coming to Normandy, without planning a stop at this place is now unthinkable. The Normandy American cemetery is also impressive and imposing.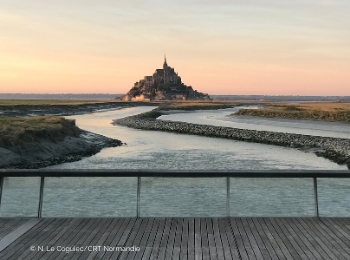 Mont-Saint-Michel
From this Abbey you will overlook one of the most beautiful and largest sea bay in the world. Its appearance and colors change every moment making it a unique place.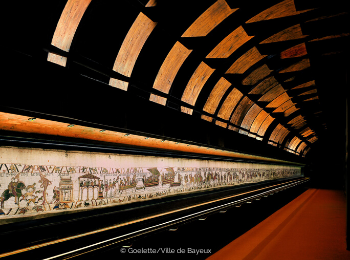 Bayeux Tapestry
Step into the conquest of England in the medieval age. Enjoy this 70m long unique embroidery. It tells the epic adventure of William the Conqueror in 1066.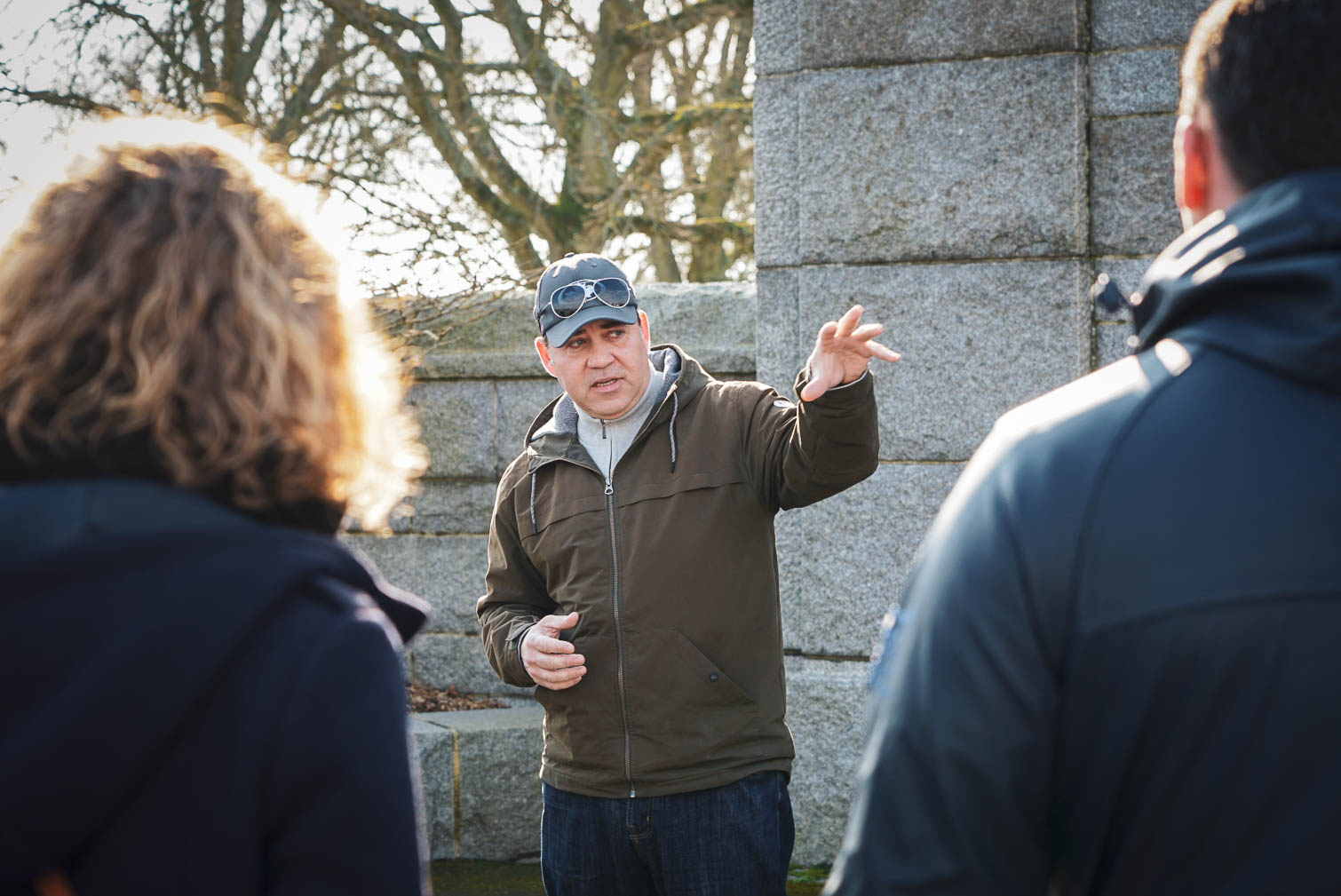 Eric comes to us from Montréal, Canada. Fully bilingual, Eric has guided thousands of people on the Normandy battlefields, from the veterans themselves, to the desendants and folks who just want to honor the soldiers who fought here. Eric was a stage and film actor in Canada before coming to France in 2011 where he began his career as a guide at the Utah Beach Museum, then the Normandy American Cemetery and Memorial, and eventually guide with Gold Beach Company. Having a family member who was actually in the Normandy Campaign was definitely a motivation to do this type of work.
Éric Leboeuf – Guide
5 reasons to choose
Gold Beach Company's tours

A personalized accompaniment

Tours, guides and information tailored to each audience and age group

We will pick you up and return you to the place of your choice in Bayeux

A comfortable and air-conditioned vehicle (except Jeep)

A bilingual guide French / English
We thoroughly enjoyed the whole two days.
Dear Philippe m We are back on the yacht on our way east tomorrow . This is an  assessment report of your services which   were" top class " especially Matt  who  was  almost perfect in every way ….. he is really  knowledgeable, very courteous  and a very pleasant person to be with.  He was always there with his book full  of very interesting  information always well-presented  he really went out of his way to show and explain to us   so such interesting historical information and … finally  he worked  well past his hours to make sure we saw everything … we thoroughly enjoyed  the  whole two days . Thank you so much  ! JCT
" Memorable Tour "
So happy to have taken the full day Gold Beach tour. Adeline was smart and articulate, leaving us with deep impressions of the Allies' assault, what worked, what failed and why. She added details that went beyond the basic facts: the important topography; details of a stained glass window and stories of individual heroes that we'd never learn on our own. The flag lowering ceremony at the cemetery at Omaha Beach was something we'll never forget.
" Very excellent tour of Utah & Omaha beaches "
Eric was my guide for the day & he was very, very knowledgeable and personable. Made for a great day. We saw Saints-Mare-Eglise church statue of American paratrooper dangling from roof. Saw the Airborne museum, Pointe du Hoc, Utah & Omaha beaches plus the American Military cemetery. Eric was an encyclopedia of information & was very helpful with my questions. I would highly recommend both Eric & Gold Beach Co to schedule your visit to Normandy.
" A Day to Remember "
Guide was excellent and knowledgeable. We went to Utah and Omaha beaches, Pont du Hoc, and the American Cemetery. Very moving.
A Must See and Do for Americans.
I cannot say enough about this tour. It was definitely a highlight in our trip to France. This is a must see and do for any American in France. Our tour guide, Katell, was the bomb. She had so much knowledge about Normandy, about the invasions and about DDay in particular. She arranged our day making sure that we saw the best of the best. She arranged the stops, entrance into the museum and lunch. She gave us plenty of time in each place to absorb the history. Whatever GBC pays her, it is not enough. She is a true gem.
Outstanding – The tour covers the highlights of the US perspective of D-Day, and we were able to see everything that a mild history buff like me would want in a single day. Our guide Eric was very knowledgeable and provided a great day of learning and sightseeing…you could tell he was passionate about the history and gave a tour that not only taught the detailed history but also honored the sacrifices of that operation.
Our family of four booked a WWII Normandy tour during our time in Bayeux. Matthew, our tour guide was fantastic!! He was extremely knowledgeable and explained the history of the sites in an easily understandable way! We were the only ones on our tour that day and Matthew took the time to get to know our interests and even added a stop on our tour relating to these interests. I would highly recommend this tour!!
Normandy is very rich in history you just might find yourself as well find yourself in the boots of a soldier in 1944 on Omaha Beach or in that of a knight in Medieval times on Mont St Michel. This region is inexhaustible, even great painters like Claude Monet have taken up residence in Giverny and have been able to develop impressionism there.  Gold Beach Company is first of all one of the pioneering companies offering for almost 20 years a service of guidance on the sector of Normandy. Its enthusiasm and its constant questioning have made this company a reliable source.  You are about to experience an exceptional moment, filled with emotions, which will allow you to pay tribute to these men and women who sacrificed their lives for Freedom. Our guides are not only there to show you the great sites but there to make you relive an experience as delicate as art, robust like the medieval and strategic like the Second World War.