Normandy on approach !
Welcome to a medieval land that saw the birth of William the Conqueror and was the scene of one of the keys to the outcome of world history: "The landing of the Allied forces". Set foot for a day on a land  of history, gastronomy…
Follow us in the footsteps of a GI or William of Conqueror during your stopover !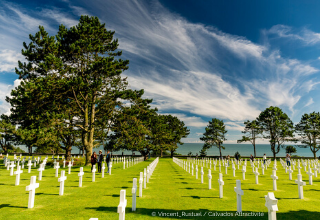 D-day tour from Le Havre
Embark at the port of Le Havre for a D-day experience! We will make you discover the fabulous places of the beginning of the liberation while passing by Omaha to finish on the artificial harbor Arromanches.
from 1000€ up to 4 people
and 1062,50€ up to 8 people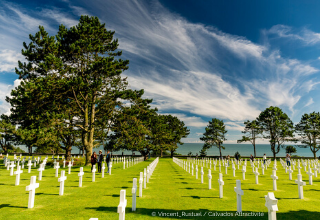 D-day tour from Cherbourg
Embark on a 100% American experience. Come and discover mythical places such as the beaches of Utah and Omaha!
from 821,50€ up to 4 people
and 862,50€ up to 8 people 

A meaningful experience
Thanks to our excellent guide, Alex, of the Gold Beach Company, our all-day tour of the American beaches, Pointe du Hoc, and the American cemetery was a breathtaking experience. On every road we drove, on every beach and cliff we stood, he brought the gravity of D-Day to life for us with his detailed knowledge of the events and his passion for the history. This tour was truly the highlight of our trip that was filled with highlights. We highly recommend this tour and especially Alex.
Looking for something special ?